Last year's act, H.R. 5474, was introduced with immediate and broad support including the AFL-CIO, the Sierra Club, and over a hundred other faith, labor, environmental, and human rights organizations. Berta's family and organization, COPINH (the Civic Council of Popular and Indigenous Organizations of Honduras), immediately applauded the action, and 52 Members of the House of Representatives officially co-sponsored the bill.
The Berta Cáceres Act (H.R. 1299) was introduced by Rep. Hank Johnson's (GA) office, with Representatives Conyers (MI), Kaptur (OH), Serrano (NY), Schakowsky (IL), Ellison (MN), Lee (CA), Susan Davis (CA), Speier (CA), Moore (WI), McCollum (MN), Lipinski (IL), Dingell (MI), Pocan (WI), Holmes Norton (DC), Napolitano (CA), Bonamici (OR), DeLauro (CT), Gutierrez (IL), Cicilline (RI), Pingree (ME), Blumenauer (OR), Rush (IL), Tonko (NY), and Grijalva (AZ) as the initial co-sponsors of the bill.
Please call these offices to thank them for their leadership on the bill TODAY. And Let's get to work to secure the remaining Representatives who co-sponsored last year's bill, plus MANY MORE! All members of the House are possible signers!
———The WFP Action Alert is ready to share here———
Below is the action alert text, script, and details, then a couple lists of targets. You might want to highlight some of the recent press (links below) and the one-year commemoration of Berta's assassination in your calls and outreach. Here is a video of Berta's daughter, Bertita, talking about The Berta Cáceres Act.
All members of the House are possible signers!
Please use the action alert to mobilize your local solidarity networks to take action ASAP.
IMMEDIATE ACTION NEEDED! ...MORE INFOS HERE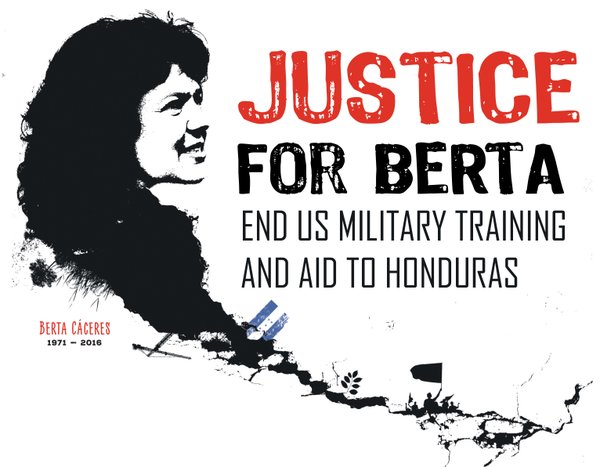 SOME ACTIONS/INFO:
Johnson reintroduces the "Berta Caceres Human Rights in Honduras Act
http://bertacaceres.org/ep-johnson-reintroduces-berta-caceres-human-rights-honduras-act/
El Senador Leahy de los

EEUU

pide la cancelacion del Proyecto Agua Zarca y una comision independiente para investigar el asesinato de Berta Caceres
http://copinhonduras.blogspot.com/2017/03/el-senador-leahy-de-los-eeuu-pide-la.html
La declaracion completa del Senador Leahy esta disponible en su pagina
https://www.leahy.senate.gov/press/statement-of-senator-patrick-leahy-on-berta-caceres
Ask Your Rep. To Co-Sponsor The Berta Cáceres Human Rights in Honduras Act!
https://actionnetwork.org/forms/ask-your-rep-to-co-sponsor-the-berta-caceres-human-rights-in-honduras-act
The US Trained Two Of Those Indicted For The Murder Of Berta Caceres
http://www.soaw.org/about-us/equipo-sur/263-stories-from-honduras/4427-unanosinjusticia
Defending Berta's Legacy—Tell Congress to stand up for human rights in Honduras
http://www.lawg.org/action-center/97/1798
Activists Family Asks Congresswoman to Support Act to Stop Honduran State Repression
http://bertacaceres.org/1-year-berta-caceres-murder-activists-demand-us-stop-funding-abusive-honduran-state-forces/
Justice for Berta Cáceres/¡Justicia para Berta Cáceres!
http://witnessforpeace.org/?p=118
The

BERTA

CÁ

CERES

HUMAN

RIGHTS

IN

HONDURAS

ACT

(H.R. 1299)
https://otherworldsarepossible.org/berta-caceres-human-rights-honduras-act-h-r-1299