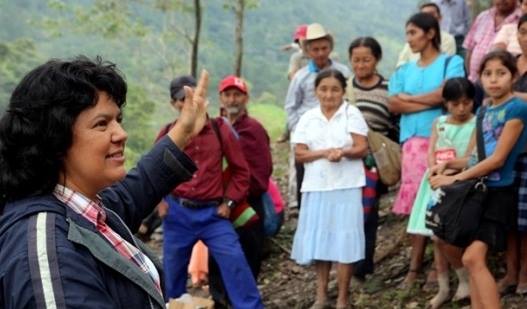 TITULO:
Ottawa Commemoration of Life and Work of Berta Cáceres
ORGANIZADO POR:
Hugo Chavez Peoples' Defense Front
FECHA:
Jueves, 2 de marzo
HORARIO: 19:00
DONDE:
91A Fourth Ave., Ottawa
MAS INFO:
https://www.facebook.com/events/218840705187630/?active_tab=about
DESCRIPCIÓN:
On March 2 we will mark one year since the assassination of Honduran Indigenous woman leader Berta Cáceres as we celebrate her life and continue to demand justice.
A tireless fighter for the rights of the peoples, she was a leader of the Lenca people of the Rio Blanco area of Honduras. Before her death, she was leading the fight against the Honduran government's violation of Indigenous title and in favour of the requirement to obtain the free, prior and informed consent of Indigenous peoples for any proposed new hydroelectric projects on their territories. The Honduran people have been resisting repression against the people's movements and fighting to affirm their rights since a U.S.-backed coup in 2009.
To this date, no one has been held to account for Berta's cowardly murder. Join us for presentations including a speaker from MiningWatch Canada, music and discussion to pay tribute to Berta and support the Honduran people's struggle.